First post go!
I apologise in advance for this one :/ Was in a hurry so presentation is kinda dumped together. Determined to make super cute food, so I'll just have to allocate some time to planning these tiny meals ;D
OK! So here's a look at Friday's work meal~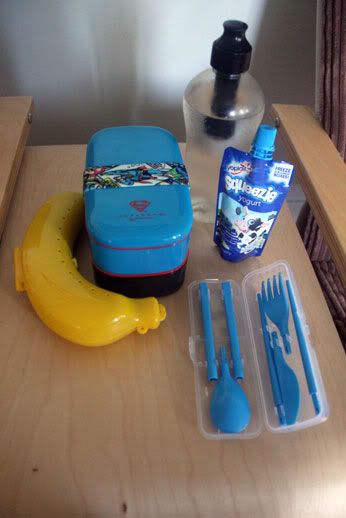 Bobble~ I love these things. It's a filter attached to your water bottle top. They come in a variety of colours~ At the moment, I'm sporting Batman-Black ;D
Yoplait Squeezie Blueberry Yogurt. I love yogurt, but I hate the effort it takes to eat it (firstworldproblems). But these darlings, you can freeze and just drink. It's genius! Brilliant way to get more calcium with minimum effort ;D
Blue assembly cutlery set (to match supes-bento box <3)
And banana holder with banana~ XD No more squished yucky messes <3
The noms~
Morning Tea~Almonds, Apricot/Yogurt Muesli, Tiny Mars Chocolate Bar, and sliced apples. I probably should have made a tiny fruit salad to make it more colourful.
Anyway Fruit Tip! To stop fruits like Bananas, pears, apples, etc from browning after cut, drizzle them with lemon juice :U It preserves them all day <3
Lunchies~ Leftovers from last night.String Bean & Roast Vegetable Salad. If you want your capsicums less mushy, add them when you add the tomatoes. Also, I probably should have blanched the broccoli with the string beans to keep their colour. Oh well, it was still delicious! <3
Served with a side of sticky sushi rice with nori deco ~ <3
My work is super busy, I often have to eat at my desk while working. So, this little blog is a little motivator for me to pack healthy meals. It's been an interesting first bento day. I found that if you put in the effort to pack a lunch sorta nicely, you're less inclined to forget about it. You also enjoy the meal more :D During this bento experiment, I found my productivty and energy shot up. So, if these results keep being consistent, it might be a good motivator for me to not skip meals at work :D
Woah, first post huge wall of text!
I promise next one will be nicer presented and less intro talkies XD